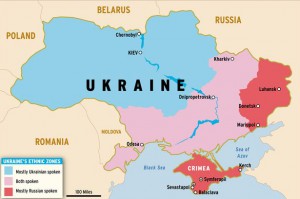 UKRAINE
Capital: Kiev
Area: 603,700 sq km
Major Cities:
Kiev, Kharkov, Odessa, Ternopil, Cherkasi, Sumi, Chernivtsi, Zaparozhe, Donesk.
Climate: Winter: maximum +20 and minimum -15/Summer:Maximum+30 and Minimum +10.
Location :
Eastern Europe, bordering the Black Sea, between Poland and Russia.
Neighbouring Countries:
Poland,Romania,Hungary,Russia,Moldava and Slovak Republic.
Brief
The cities of Ukraine with their broad sidewalks and beautiful greenery, are absolutely suited for walking. Ukrainians normally do a considerable amount of walking, either to get together or simply for enjoyment. Parks are beautiful and popular for strolling or picnicking, a common pastime among city dwellers, most of whom live in flats. The cities of Ukraine also feature numerous small shops,which sell all manner of items.
Cultural events and entertainment are a huge spread.  Ukraine's main cities have ornate theatres with their own opera or ballet companies. Song-and-dance ensembles, most notably the Verovka State Chorus and the Virsky Dance Ensemble, have made Ukrainian folk music and dance into an impressive stage art. Though classical music remains popular, contemporary Western-style music has covered its audience considerably and now rules the airwaves on numerous commercial radio stations. Street concerts and night club performances are common, as are dance clubs and cabarets. Imported television soap operas have developed a dedicated following, and cinemas show American,German,French and Russian blockbusters.
The country has a huge variety of restaurants,bars and kafes that serve Chinese, Greek, Continental, or other foreign cuisine. Pizza bars and other fast-food restaurants are increasingly common as well. Many Ukrainians, however, still prefer such traditional Ukrainian foods as borscht, cabbage rolls, varenyky (dumplings), studynets (a form of headcheese), and shashlyky (kebabs). On festive occasions these dishes are accompanied by vodka or champagne and eloquent toasts. The dish known as chicken Kiev, though commonly served in Ukraine, likely originated elsewhere.