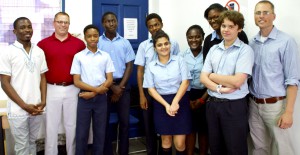 FOR GHANAIAN STUDENTS
Many students for Ghana are studying in Ukraine and more admissions are in process for 2019-2020 intake.
Students from Ghana normally study at all universities in Ukraine no matter medical universities engineering universities or arts universities.
As we know that English is their official language so they prefer to study their degree programs in English medium of instructions directly but some students from Ghana study at Russian language faculty too in Ukraine.
Students from Ghana are found in every city of Ukraine may say as Ukraine has a big network of national universities in all cities.
From Ghana not only male students but many female students also come to Ukraine for their higher education.
We would like to inform the students from Ghana specially that We have excellent English teaching system and Ukraine is an ideal destination for international students as our local community is very friendly with foreigners.
ADMISSION PROCESS FOR GHANA NATIONALS
Admission process is may say alike for all international students but sometime requirements differ with respect to education system of applicant's country.
Students from Ghana scan their international passport copy with secondary school certificate copy for admission eligibility assessment.
Once the eligibility is completed and applicant from Ghana is informed than he/she transfers his/her admission processing fee and his/her documents are forwarded to the Ministry of Education,Ukraine for processing and it takes normally 1-2 weeks to be issued the official study invitation and it is first scanned and than couriered to the applicant so that he/she may obtain his/her student visa for Ukraine.
VISA PROCESS FOR STUDENTS OF GHANA
Visas issuance system is not that difficult as for UK, USA,Canada or other European countries where even student visa refusal ratio is more than 95% after spending admission fee and even university fee in advance.
Ukraine visa may say is almost 100% guaranteed and is issued to all those students from Ghana who have with them official study invitation by Ministry of Education,Ukraine.
After issuance of study invitation by the Ministry of education,a confirmation is sent to the embassy for each applicant' official admission.
Students from Ghana obtain their visas from VFS VISA CENTER in Accra.
http://www.vfsglobal.com/ukraine/ghana/contact-us.html
UKRAINE EMBASSY REQUIREMENTS FOR STUDENTS FROM GHANA
Official website for Embassy of Ukraine in Senegal
http://senegal.mfa.gov.ua/en/consular-affairs/services/visas
The documents required for Ukraine study visa are:
1. Original Passport (must be valid for one year)
2. Six passport size photos (6 x 4)
3. Complete filled Application Form
4. Original study invitation from Ministry of education,Ukraine
5. Original HIV-Test certificate- (Embassy will translate this document)
6. Original School Certificate with Grades or Points (should be with Apostle seal attached) – (Embassy will translate and legalize this document)
7. Original Birth Certificate (should be with Apostle seal attached) – (Embassy will translate and legalize this document)
8. Original medical examination certificate certified by the official body (should be with Apostle seal attached) – (Embassy will translate and legalize this document)
NO IELTS OR TOEFL IS REQUIRED
Interested applicants may contact us directly for the admission process in Ukraine 2019-2020 intake directly by phone,email,whats up and viber .
Ph,WHATSAPP/VIBER:+380952493720
Email: ukrainianacademies@gmail.com