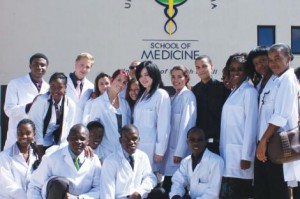 FOR NAMIBIAN STUDENTS
Namibian students are studying in Ukraine mostly at medical universities right now and more applications are in processing for 2020-2021 intakes.
We would like to inform the Namibian students specially that We have proper English medium teaching system. Our teachers speak English fluently.
As all know that English is official language in Namibia so students from Namibia study their degree programs directly in English medium of instructions not in Russian.
From Namibia both male and female students come to study at universities in Ukraine due to high ranking worldwide and brilliant quality of education in Ukraine at national universities.
Few national medical universities are recognized in Namibia and even government of Namibia sometime sponsor their students for study abroad programs in Ukraine but many Namibian students come to join self financed degree programs too in Ukraine.
ADMISSION PROCESS FOR STUDENTS FROM NAMIBIA AT UKRAINIAN UNIVERSITIES
Every Namibian students who want to study his/her degree program in Ukraine at any university must have passed secondary school in Namibia.
According to process applicants from Namibia scan their secondary school certificate copy with international passport copy in the email of admission office (ukrainianacademies@gmail.com).
After assessment of the admission documents the applicant is informed about his/her eligibility/ineligibility for the admission at Ukrainian universities.
In case found eligible than he/she transfers the admission processing fee through wire transfer or western union and his/her documents are forwarded for processing at Ministry of Education,Ukraine which takes 1-2 weeks to issue the official study invitation.
UKRAINE STUDENT VISA PROCESS FOR STUDENTS FROM NAMIBIA
Once they have official study invitation by Ministry of Education,Ukraine it means he/she is ready to obtain Ukraine student visa.
Ministry of foreign affairs,Ukraine has assigned the Ukraine Embassy in South Africa for Namibian students visa processing.
We advise Namibian students to complete their visa documents file carefully and than only travel to South Africa to obtain their Ukraine student visa. Because in case any document missing they have to travel back to Namibia as Embassy only issues the visas to students whose file is ready at the time of visa application at Ukraine Embassy.
Students from Namibia has to get their visas from Ukraine embassy in South Africa. Students can apply online for admission.
Official website for Embassy of Ukraine in South Africa
http://rsa.mfa.gov.ua/en/consular-affairs/services/visas
UKRAINE STUDENT VISA REQUIREMENTS FOR STUDENTS FROM NAMIBIA
Students can go directly to South Africa or can give all their documents to our representative for Visa. Our representative will go there to get all students visa together.
Ukrainian Embassy is located in Pretoria, South Africa.
The documents required for study visa are:
1. Original Passport (must be valid for one year)
2. Six passport size photos (6 x 4)
3. Complete filled Application Form.
4. Original study invitation from Ministry of education,Ukraine
5. Original School Certificate with Grades or Points (should be with Apostle seal attached) – (Embassy will translate and legalize this document)
6. Original Birth Certificate (should be with Apostle seal attached) – (Embassy will translate and legalize this document)
8. Original medical examination certificate certified by the official body (should be with Apostle seal attached) – (Embassy will translate and legalize this document)
Interested applicants  from Namibia for admission at Ukrainian universities for 2020-2021 intakes may contact us directly for the admission process:
Ph,WHATSAPP/VIBER:+380952493720
Email: ukrainianacademies@gmail.com