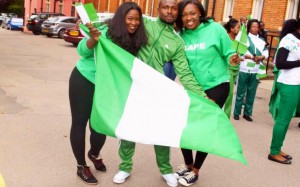 FOR NIGERIAN STUDENTS
Nigerian students are in huge numbers in Ukraine study at all national universities and every year we receive applicants for more than any other country for admission at Ukrainian universities by Nigerian students.
Nigeria is a country where education really matters and we knew it by growing numbers of application for 2019-2020 intake.
Students from Nigeria come to study at Medical universities  engineering Ukraine and economics universities and no doubt they are brilliant students and study their courses with great attention.
As all know that the native language of Nigeria is English so almost all Nigerian students study their degree programs in English medium of instructions directly.
Only at national medical universities more than 800 Nigerian students are studying and almost same numbers at Engineering and economics universities in Ukraine.
Ukraine warmly welcome students from Nigeria for 2019-2020 intake.
WHY NIGERIAN STUDENTS PREFER UKRAINE FOR THEIR STUDY ABROAD PROGRAMS?
There are certain reasons that why huge numbers of Nigerian students prefer Ukraine.
Students from Nigeria obtain their visas through VFS in Abuja-Nigeria.
Our students from Nigeria told us different things and above all was Affordable fee with high quality education and teaching at Ukrainian universities and also almost no student visa issues.
They also told us that living is so cheap here and they or their parents can afford easily.
One more reason they told us that they heard well the ex students references who graduated from Ukraine and working in different countries as their degree was recognized everywhere.
10 REASONS TO PREFER UKRAINE BY NIGERIAN STUDENTS
1:QUALITY OF EDUCATION IN UKRAINE
2:ALL COURSES AVAILABLE FOR INTERNATIONAL STUDENTS
3:ENGLISH MEDIUM OF INSTRUCTIONS
4:HIGHLY PROFESSIONAL TEACHING STAFF
5:MEETING WITH DIFFERENT CULTURES THROUGH HUGE NUMBERS OF INTERNATIONAL STUDENTS FROM DIFFERENT COUNTRIES
6:DEGREES RECOGNITION WORLDWIDE
7:A VERY COMFORTABLE ATMOSPHERE FOR LIVING
8:COST OF LIVING IS QUITE AFFORDABLE FOR INTERNATIONAL STUDENTS
9:GUARANTEED ADMISSION
10:EASIEST AND 100% ASSURED STUDENT VISA
ADMISSION PROCESS AT UKRAINIAN NATIONAL UNIVERSITIES FOR STUDENTS FROM NIGERIA
Once international students from Nigeria choose to study their higher education degree program in Ukraine,They may contact us by whats app Email or Apply Online form and they are replied at earliest with complete details according to their requirements.
According to admission process Nigerian students scan us their secondary school certificate and international passport copy for their admission in bachelor programs and once the assessment for their admission is done they are informed and than only they transfer the admission fee.
Ineligible students are asked to scan more supporting documents for admission.
Once we receive the admission fee receipt in admission office email(ukrainianacademies@gmail.com) their documents are forwarded for official study invitation processing at Ministry of Education,Ukraine which takes 1-2 weeks.
Once issued first the invitation is scanned in applicant's email and than couriered to him/her as he/she requires original study invitation at Embassy of Ukraine for student visa issuance.
NO IELTS OR TOEFL IS REQUIRED
POPULAR COURSES IN UKRAINE FOR NIGERIAN STUDENTS
1:GENERAL MEDICINE
2:NURSING
3:AERONAUTICAL ENGINEERING
4:COMPUTER ENGINEERING
5:INFORMATION TECHNOLOGY
6:OIL & GAS ENGINEERING
7:MARINE ENGINEERING
8:ELECTRICAL ENGINEERING
9:CIVIL ENGINEERING
10:BUSINESS MANAGEMENT
11:FINANCE
12:ECONOMICS
13;BANKING
14:HUMAN RESOURCES MANAGEMENT
15:MBA
16:AGRICULTURE SCIENCE
17:PHARMACY
18;TOURISM
19:HOSPITALITY
20:PROJECT MANAGEMENT
21:PUBLIC HEALTH
22: PhD
23:CYBER SECURITY
24:LAW
UKRAINE STUDENT VISA PROCESS FOR NIGERIAN STUDENTS
Nigerian students obtain their student visa for Ukraine through Ukraine Visa Center VFS in Abuja city which is also the capital of Nigeria.
http://www.vfsglobal.com/Ukraine/Nigeria/contact-us.html
Visa is normally issued to all students who has official study invitation with him/her by Ministry of Education,Ukraine and a confirmation is sent in the Embassy for the admission directly by the Ministry of Education,Ukraine.
We strongly advise students to scan us their visa copy with return air ticket 3 days before departure as admission office has to prepare reception documents for the immigration to receive the students.
OFFICIAL UKRAINIAN GOVERNMENT SITE FOR EMBASSY OF UKRAINE IN NIGERIA
VISA REQUIREMENTS AT EMBASSY OF UKRAINE IN ABUJA
The documents required for study visa are:
1. Original Passport (must be valid for one year)
2. Six passport size photos (6 x 4)
3. Complete filled Application Form
4. Original study invitation from Ministry of education,Ukraine
5. Original School Certificate with Grades or Points (should be with Apostle seal attached) – (Embassy will translate and legalize this document)
6. Original Birth Certificate (should be with Apostle seal attached) – (Embassy will translate and legalize this document)
7. Original medical examination certificate certified by the official body (should be with Apostle seal attached) – (Embassy will translate and legalize this document)
8:Bank statement by sponsor
Interested applicants from Nigeria may contact us right now directly for their fast and quick admission process at Ukrainian universities 2019-2020 intake.
Ph,WHATSAPP/VIBER:+380952493720
Email: ukrainianacademies@gmail.com