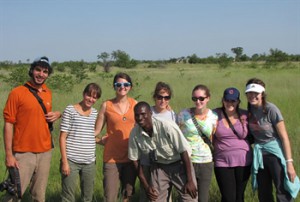 FOR BOTSWANA STUDENTS
Students from Botswana obtain their visas from Ukraine embassy in South Africa which is not a big far.  
Visas issuance system is not that difficult as for UK, USA,Canada or other European countries.
After issuance of study invitation by the Ministry of education,a confirmation is sent to the embassy for each applicant' official admission.
Students from Botswana are brilliant at their studies so Ukraine every year welcome students from this country.
Botswana students are very good at English so they study directly at their desired faculties without preparatory course.
Ukraine welcome students from Botswana for 2019-2020 intake at all state owned universities.
ADMISSION PROCESS FOR STUDENTS FROM BOTSWANA
Admission process is same as for all international students.
Interested applicants first write us their desired course requirements and in response our admission staff send them the details for process and finances involved.
Once the applicant find himself/herself comfortable with the affordability,He/She scan his/her documents for the assessment in admission office Email.
Assessment process takes 1-2 days and eligible or ineligible applicants are informed by the Email.
Eligible applicants upon receiving the Email send the admission fee for their admission and admission staff forward their documents to the Ministry of education,Ukraine for processing of official study invitation.
The process at Ministry of Education,Ukraine takes 2 weeks and an official study invitation is handed over to or admission office by the Ministry of Education,Ukraine.
This official study invitation is first sent by scan to the applicant and than by the courier at postal address of the applicant in homeland for visa process.
STUDENT VISA REQUIREMENTS FOR UKRAINE FROM BOTSWANA
Those countries where the Ukraine Embassy is not located are assigned the Embassies by Ministry of Foreign Affair for student visa process.Embassy link is as follows:
https://rsa.mfa.gov.ua/en/consular-affairs/services/visas
Students may travel to South Africa with all their documents  for Visa.
Students from Botswana must prepare all supporting documents with them carefully while traveling to South Africa for their visa process as in case any documents is missing at Embassy,Applicant will have to travel back to the homeland for the missing documents and it takes time and money.
So we strongly recommend to check your documents for Ukraine student visa application before traveling to the Embassy in Pretoria,South Africa.
Ukrainian Embassy is located in Pretoria, South Africa.
The documents required for study visa are:
1. Original Passport (must be valid for one year)
2. Six passport size photos (6 x 4)
3. Complete filled Application Form
4. Original study invitation from Ministry of education,Ukraine
5. Original HIV-Test certificate- (Embassy will translate this document)
6. Original School Certificate with Grades or Points (should be with Apostle seal attached) – (Embassy will translate and legalize this document)
7. Original Birth Certificate (should be with Apostle seal attached) – (Embassy will translate and legalize this document)
8. Original medical examination certificate certified by the official body (should be with Apostle seal attached) – (Embassy will translate and legalize this document)
NO IELTS OR TOEFL IS REQUIRED
Interested applicants may contact us directly for the 2020-2021 intake admission process by phone,email or whats up and viber .
Ph,WHATSAPP/VIBER:+380952493720
Email: ukrainianacademies@gmail.com