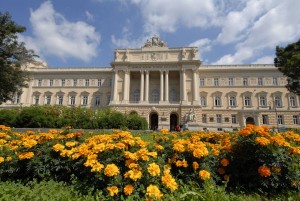 LVIV NATIONAL MEDICAL UNIVERSITY ADMISSION 2019-2020
The history of Lviv medical university goes back to 1661, when on the 20th of January Jesuit Collegium in Lviv by the privilege of Polish King Yan Kazimir acquired the status of Academy. It consisted of four departments and was awarded the title of the University. However, until the break-up of the University in 1773 the full-blown medical department was not established.
On the 16th of November 1784 according to the privilege of the Austrian emperor Josef II, signed on 21 October 1784, Lviv University consisting of four faculties – theology, philosophy, law and medicine – was revived. Since then Danylo Halytskyi Lviv National Medical University has started counting its age.
Taking into account state and international recognition of University activity, great contribution to the development of national education and science, Danylo Halytskyi Lviv State Medical University was conferred the status of National Medical University on the 21st of August 2003 by the President's decree №872/2003
According to the IVth level of accreditation, conferred by the Ministry of Education in 1996, training in Lviv Medical University is carried out at the educational qualification levels: Junior Specialist, Bachelor, Specialist, and Master.
Scientific and educational activity is accomplished at 73 units, clinical centers, at the Institute of Clinical Pathology, in the laboratory of industrial toxicology, in the central research laboratory by 86 full professors, 324 associate professors, 429 assistant professors, including 96 Doctors of Sciences and 543 PhD degree holders. Among them are corresponding members of the Ukraine's National Academy of Sciences, academicians of the Academy of Medical Sciences, Academy of Sciences of Ukraine's Higher School and number of foreign academies, honored scientists and technicians of Ukraine, creative work of whom has been awarded with precious state and scientific prizes.
Teaching staff
79 doctors, 544 candidates, 92 teachers
FACULTIES 
FACULTY OF GENERAL MEDICINE HUMAN ANATOMY
OBSTETRICS AND GYNECOLOGY (2)
GENERAL HYGIENE AND ECOLOGY
NUCLEAR MEDICINE
PULMONOLOGY AND TUBERCULOSIS
TRAUMATOLOGY AND ORTHOPAEDIC
PATHOLOGICAL PHYSIOLOGY
PHYSICAL TRAINING, SPORT MEDICINE AND REHABILITATION
GENERAL AND CLINICAL SURGERY WITH ANESTHESIA
AMBULATORY CARE AND PREVENTION
INFECTIOUS DISEASES
INTERNAL MEDICINE WITH PHYSIOTHERAPY
HYGIENE WITH TOXICOLOGY
LATIN MEDICAL TERMINOLOGYFACULTY OF GENERAL MEDICINEPATHOLOGY WITH FORENSIC MEDICINE
OBSTETRICS AND GYNECOLOGY (1)
CLINICAL PEDIATRICS WITH MEDICAL GENETICS
GENERAL PEDIATRICS INFECTIOUS DISEASES
PEDIATRICS WITH NURSING
IMMUNOLOGY AND ALLERGOLOGY
PEDIATRIC SURGERY
HOSPITAL SURGERY
INTERNAL MEDICINE
PHYSIOLOGY
PHARMACOLOGY
MICROBIOLOGY
ENDOCRINOLOGY AND CLINICAL PHARMACOLOGY
BIOLOGY WITH PARASITOLOGY AND GENETICS
CELL BIOLOGY, HISTOLOGY AND EMBRYOLOGY
SOCIAL MEDICINE AND PUBLIC HEALTH
CIVIL DEFENSE AND MILITARY SERVICESFACULTY OF DENTISTRYTOPOGRAPHICAL ANATOMY AND OPERATIVE SURGERY
PSYCHIATRY AND MEDICAL PSYCHOLOGY
NEUROLOGY AND NON TRADITIONAL MEDICINE
PEDIATRIC DENTISTRY
ORTHOPEDIC DENTISTRY
THERAPEUTIC DENTISTRY
SURGICAL DENTISTRY
EAR, NOSE AND THROAT DISEASES
INTERNAL MEDICINE WITH PHYSIOTHERAPY
FOREIGN LANGUAGESFACULTY OF PHARMACYORGANIZATION AND ECONOMICS OF PHARMACY
TECHNOLOGY OF DRUGS
TOXICOLOGICAL AND ANALYTICAL CHEMISTRY
BIOCHEMISTRY
PHARMACEUTICAL AND ORGANIC CHEMISTRY
INORGANIC AND GENERAL CHEMISTRY
PHARMACOGNOSY AND BOTANY
BIOPHYSICS AND COMPUTER SCIENCE
PHILOSOPHYFACULTY OF NURSINGNURSING AND PROPEDEUTICS OF INTERNAL DISEASESFACULTY OF POSTGRADUATE EDUCATIONOBSTETRICS AND GYNECOLOGY FPE
ANESTHESIOLOGY
PUBLIC HEALTH MARKETING AND MANAGEMENT
EYE DISEASES
SKIN AND VENEREAL DISEASES
CLINICAL DIAGNOSTICS
NEUROSURGERY
ONCOLOGY
ENDOSCOPIC SURGERY
PHARMACY ORGANIZATION AND ECONOMY WITH A COURSE OF MEDICINES TECHNOLOGY FPE
PHARMACEUTICAL CHEMISTRY
PEDIATRICS AND NEONATOLOGY
PSYCHIATRY AND PSYCHOTHERAPY
NUCLEAR MEDICINE FPE
THERAPEUTIC DENTISTRY FPE
THERAPY FPE
FAMILY MEDICINE
UROLOGY
SURGERY FPE
REHABILITATION MEDICINE
MEDICAL INFORMATICS
MAXILLOFACIAL SURGERY FPE
Majors
General Medicine (Doctor of Medicine Degree) – 6 years
Dentistry (Doctor of Dentistry degree) – 5 year
Nursing (RN) – 3/4 year
Pharmacy(Doctor of Medicine Degree) – 6 year
Postgraduate Education – 2 year
Interested applicants may contact us directly for the 2019-2020 admission process by phone,email or whatsupp and viber today.
Ph,WHATSAPP/VIBER:+380952493720
Email: ukrainianacademies@gmail.com