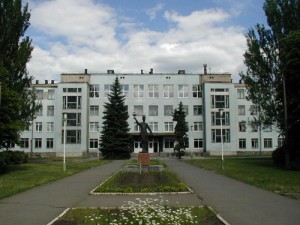 LUGANSK STATE MEDICAL UNIVERSITY
Lugansk State Medical University is a higher educational establishment in Luhansk (Ukraine). It was founded on May 6, 1956.
The university has , as of 2012 more than 3000 students including students from over 60 countries. Graduates are eligible for the United states ECFMG certification and are also eligible for certification in Canada and many other countries after after clearing medical licensing examination of these countries.
University management, legislation and international contacts all fall within the scope of the University's competence. Lugansk State Medical University constantly keeps in touch with its graduates: Many of them have become highly qualified doctors, known scientists, political figures in their countries.
Teaching staff
>400 (74 doctors of sciences, 271 candidates of sciences)
Faculties
Faculty of General Medicine
Faculty of Pediatrics
Faculty of Dentistry
Faculty of Pharmacy
Faculty of Post – Graduation
Faculty of Nursing
International Students Faculty
Majors
General Medicine (Doctor of Medicine degree) – 6 years
Dentistry (Doctor of Dentistry degree) – 5 year
Pediatrics (Doctor of Medicine degree) – 6 year
Pharmacy (Doctor of Medicine degree) – 6 year
Nursing (RN) – 3 / 4 year
Postgraduate Education  – 2 year