KHARKIV NATIONAL AEROSPACE UNIVERSITY 2019-2020
For a long time Ukraine has been involved in space engineering and aviation.
Ukraine prepares the highly skilled specialists in this field. Kharkiv aviation institute is the leading institute for aviation specialities.For decades this institute has trained engine
ers in aviation field with its highly skilled staff and modern technologies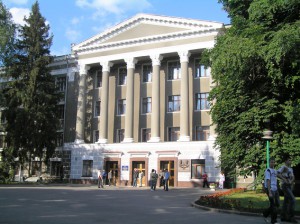 used in teaching and practical.
This institute was formed in 1930 specializing in aircraft engineering and its
specializations.
In Europe Khai is the first which manufactured the modern and high speed airplane.It is also the fact that first time this institute teacher designed the turbojet engine Mr.A.M.liulka.
There is a department called design bureau where airplanes are developed.
In 1998 this aerospace university was given the name Kharkiv Aviation Institute
and in 2000 it got the status of national higher educational institute.
The graduates from the university are also working for the department of aespace f
or Ukraine government because of their highly professional skills.
There is also airplane structure faculty at the aerospace university where students are taught to develop the structures of airplanes.
At present more than 1000 foreign students from Europe,Asia and Africa are studying at different faculties in Khai.
We would also like to mention that moore than 600 highly professional teachers are
working at aerospace university in Kharkiv.
We proudly say that this aerospace university is the member of Global association of industry and airport technology.
Kharkiv aerospace university also takes part in different universities for air plan in USA,Japan,Germany,France,Mexico and China.It has also been taking part in the creation of ALFA international space station.
A huge number of international students are graduated every year from Kharkiv aviation institute.
The university has its own separate territory in the city of Kharkiv for its air
activities.There are 8 academic building for different faculties and training.The university also own its R&D department for the manufacturing and designing of airplanes.
The Kharkiv aviation institute has the main following degree programs.
1:Aeronautical Engineering (English)
2:Aerospace Engineering  (English)
3:Air transport program  (English)
4:Computer Science program  (English)
5:Preparatory Faculty
Interested applicants may contact us right now directly for the 2019-2020 intake admission process by phone,email or whatsupp and viber.
Ph,WHATSAPP/VIBER:+380952493720
Email: ukrainianacademies@gmail.com