Bukovina national Medical University Admission 2019-2020
Bukovina national Medical University a traditional medical university recognized by WHO situated in the west of Ukraine the city of Chernivtsy established in 1944. Chernivtsy is a very modern city located on the border of Ukraine in the West with Hungary. It is a small city in capacity of area and the best tourist place with great landscapes which attract thousands of tourists every year from all over the world.The city is an ideal place to live and study for foreign students as its is inexpensive and very peaceful people.
At Bukovina national medical university 36 different departments are in function and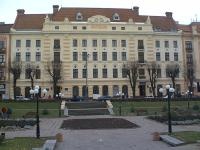 50 professors with 280 assistant professors holding a Ph.D degree are working in these departments.
In all medical fields the university has marvelous achievements.The staff of the university has always been going to different countries and working at well known medical institutions in different continents successfully.
The staff deal with the foreign students in their own language as they are very well trained to teach the foreign students from Asian,African,European and American countries So the students from the different countries never face problems to communicate with the staff members of the university.
Medical university has the license issued by the Ministry of Education,Ukraine to enroll the foreign students from every country of the world at pre-medical faculty,medical faculty and post graduate faculty.
Faculties:
1:General Medicine (English)
2:Pediatrics (English)
3:Medical Psychology (English)
4:Pharmacy (English)
5:Post Graduation (English)
6:Nursing
Interested applicants may contact us directly for the admission process by phone,email or whatsupp and viber .
Ph,WHATSAPP/VIBER:+380952493720
Email: ukrainianacademies@gmail.com